FAQs
Most frequently asked questions
Will a signature be required for delivery?
Yes, an adult signature is required for the delivery of all Icebox orders.
Can I pay with two or more forms of payment?
Yes, we accept multiple forms of payment for merchandise. We accept credit cards, debit cards, Paypal, Bitpay, Zelle or a wire transfer. Once you have made your product selection, call our Online Sales Team at 770 828-5540 and we will provide payment links for each form of payment, to complete your transaction.
Can I track my order?
Yes, the day your item is shipped, your tracking number will be sent to you by email. We ship using priority 2-day shipping and an adult signature will be required for the package.
Will my order be insured once it has shipped?
Yes, all Icebox shipments are insured for their full value and are shipped in a plain white box, for security purposes. An adult signature will also be required to receive the package.
Is your website secure?
Yes, we have multiple layers of security to ensure your personal information and payment details are secure.
How often do you update your inventory?
We update our inventory on a weekly basis. Check back with us weekly and see what is new!
Do you buy diamonds, watches or gold jewelry?
Yes, we do buy diamonds over 1.00 carat. We also buy watches, gold jewelry and diamond jewelry. If you have an item you would like to sell, please call our store at 404-842-0266 to set up an appointment with our Buying Team.
Do I need to make an appointment to visit Icebox?
Although an appointment is not required to visit Icebox, it is preferred so we may match you up with an available Sales Professional. Please reach out to us at 404 842-0266 to schedule an appointment today!
Does Icebox ship internationally?
Yes, we ship orders internationally via FedEx and DHL.
Can you ship my item to an address different from my billing address?
Yes we can ship to a different address other than your billing address for most forms of payment. We will require an email or text stating that you authorize the order to be shipped to a different address, which you will provide.
Can I place an order by phone?
We do not process orders over the phone for security purposes. If you would like to make a purchase, please visit us at our store or online.
How do I pay using a Wire Transfer?
Simply checkout on our website and click on the "Wire Transfer" payment option. After you complete the checkout, an email will be sent to you with instructions to complete the wire transfer payment.
Where is Icebox located and what are your store hours?
Icebox is located in the Buckhead neighborhood of Atlanta. Our address is 3255 Peachtree Road NE; Ste 2, Atlanta, GA 30305. Monday - Friday 11:00am-7:00:pm EST. You can also shop online with us at www.Icebox.com
How can I get my jewelry insured against loss or theft?
Although we do not sell jewelry insurance through Icebox, we recommend Jeweler's Mutual at www.insureyourjewelry.com to insure your Icebox fine jewelry.
Is Icebox an authorized Rolex Watch Dealer?
Icebox is not an authorized dealer of any watch brands. However, any watch purchased through Icebox comes with a 1 year Icebox warranty in place of a manufacturers warranty.
Can you resize a ring I bought at Icebox?
Yes, we will resize the ring, free of charge, within 30 days of purchase. We can typically re-size rings up to two sizes up or down. Please note that eternity ring designs cannot be re-sized. Please contact us by phone at 770-828-5540 or email at support@icebox.com and we will provide return instructions.
Will I be charged sales tax on my Icebox.com purchase?
All orders within the state of Georgia are subject to 8.9% sales tax. If your order is being shipped outside of the state of Georgia, you will not be charged sales tax.
What is your online return & exchange policy?
Icebox Diamonds & Watches does not accept returns or issue refunds, however we do allow (1) exchange within 14 days of the delivery date. In the event you are dissatisfied with your item for any reason, we will allow you to exchange your item for an item of equal or greater value. Jewelry items can be exchanged for jewelry, and watches can be exchanged towards watches or jewelry. Jewelry cannot be exchanged towards a watch. Please contact us by phone at 770-828-5540 or by email at support@icebox.com and we will provide you with instructions on completing your exchange. If you are sending an item back due to a manufacturer issue or for a ring sizing, you must first request a return authorization number for your package. To obtain a return authorization contact us by phone at 770-828-5540 or email at support@icebox.com. Ship your package via UPS or DHL ONLY and insure the package for the full purchase price. For security reasons, do not disclose the contents when insuring the package. Icebox Diamonds & Watches is not responsible for any loss or damage that occurs during shipping. All items must be accompanied by the original sales receipt or order number. Please mail the package to the address provided in the instructions you receive from support@icebox.com and ensure that your name, address and return authorization number are clearly printed on the outside of the package. Icebox Diamonds & Watches will contact you upon receipt of the package. Our Quality Inspection team must confirm the returned jewelry has not been damaged, or suffered excessive wear and tear during the 14-day period. All items must arrive back at Icebox in their original condition.
If my order is shipped internationally, will I be required to pay fees duties, or taxes?
The customs office of the destination country or region may impose customs fees, import duties, taxes, and other charges to your international order. These additional charges required for customs clearance are the responsibility of the recipient. When your order arrives at customs, you will be contacted by the carrier or the customs office to arrange for the payment of any charges that may be due.
Can I make changes to my order once it has been placed and confirmed?
Once you have received your Confirmation email stating your item is in process of being created, we cannot make any changes to the design, metal color or diamond quality.
Our store location
We invite you to visit our store.
Store Address
3255 Peachtree Rd NE
Suite #2
Atlanta, GA 30305
Opening Hours & Days
11AM — 7PM EST
Monday — Friday
Weekends Closed
View Location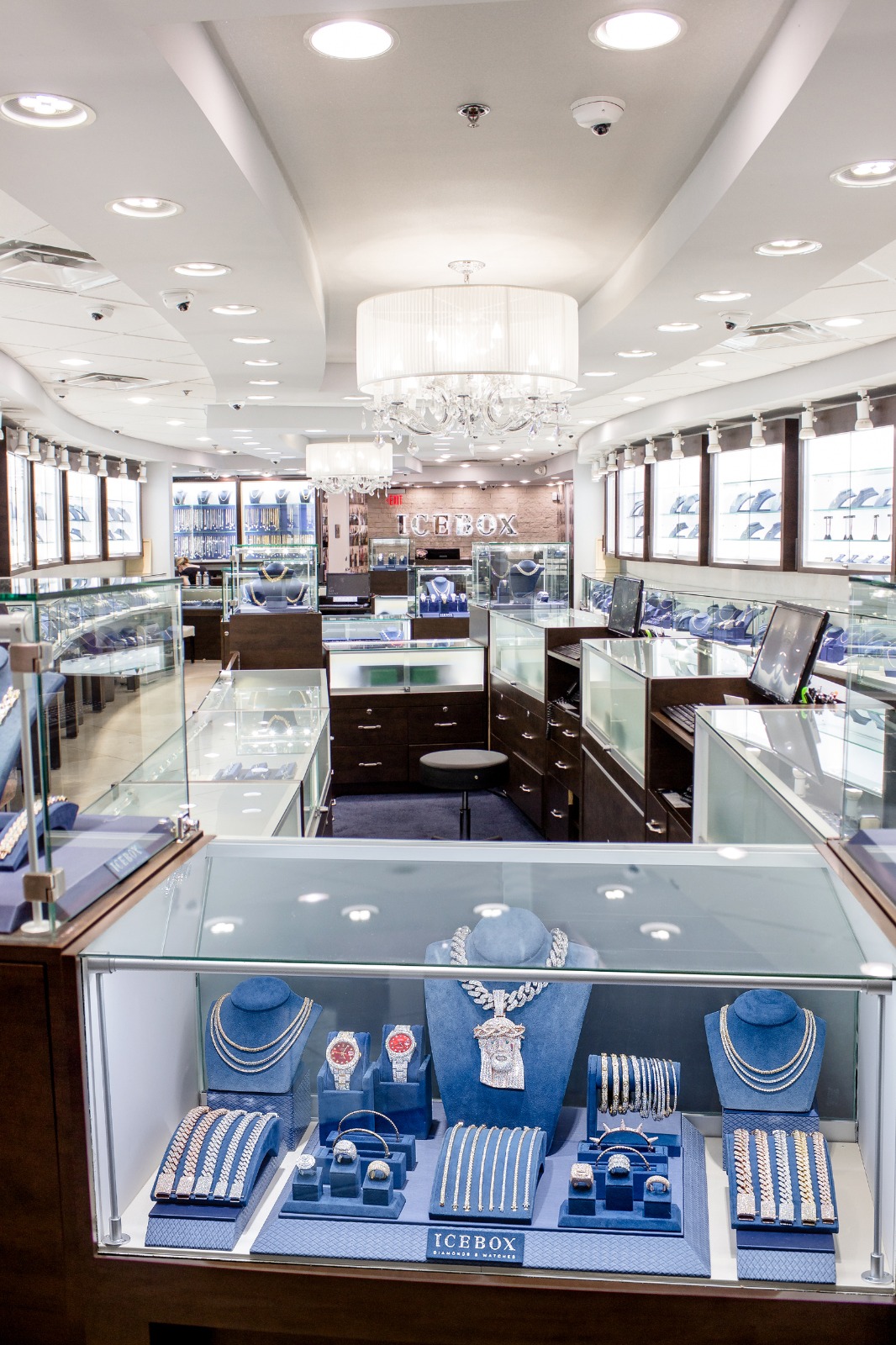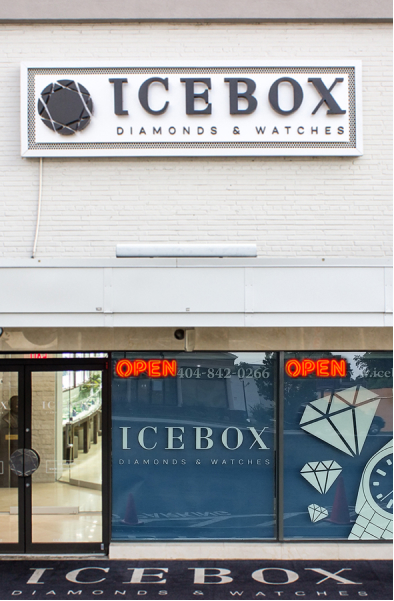 Free Insured Shipping
We offer fast and free shipping on all domestic orders.
Signature Required
Adult Signature Required on every package.
100% Guaranteed Delivery
Insured and Discreet Packaging.
International Shipping
Safe and Secure Shipping Across the Globe.